Twilight Series

TS 8.2

Discover the power of good — and better and best. You can feel good knowing that you will live life better, thanks to the best of hydrotherapy. With 44 jets and lounge seating, experience head-to-toe relaxation. Plus, like all Master Spas hot tubs, the TS 8.2 offers low maintenance and energy efficiency, so owning and caring for it is easy.
Dimensions
94" x 94" x 38"
(239 cm x 239 cm x 97 cm)
See what our customers are saying
Best Part of the Day
"I use this every day — mostly at night, but sometimes early morning with coffee. The shoulder jets are my favorite. The foot jets are second! After a long day in an office chair, this is heaven awaiting my arrival home." - Armedical, Florida
Injury Relief and Recovery
"Since getting our hot tub, we use it about 3 to 5 times per week. We both have injuries and the aches and pains that come with age, renovations and yard work. I've gone into the tub with a headache and come out feeling good. We're looking forward to using it for many years to come." - Tokar, Canada
Personalized Hydrotherapy
"I am so happy with my purchase. The variation of options for jets and pumps allows me to address different needs with each time I use it. My friends and family love to come, and it looks as wonderful as it works." - Chrissy, Ontario
At Master Spas, we make buying a hot tub or swim spa just as relaxing as using one.
See a hot tub or swim spa, select the perfect size.
We can do this with a photo & dimensions or by visiting your backyard.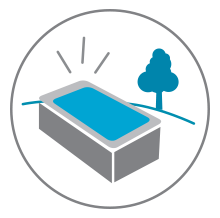 When you're ready, a hot tub or swim spa can be installed in one day.
Twilight Series
TS 8.2 Reviews